Fortress Technology's new Raptor Combi inspection system is assisting new Irish start-up company Soothing Solutions to provide total peace of mind to parents enduring sleepless nights with one of the most common afflictions in young children aged two-years and up – sore throats and persistent tickly coughs. For co-founders of the innovative natural remedy firm Sinéad Crowther and COO Denise Lauaki, commissioning the installation of the Raptor Combi ensures full product integrity and COP compliance from the get-go.
With global ambitions for the company's new non-choke Tonstix concept – which launched to the Irish market in April – the dissolvable honey jelly pops innovation has been years in the making. Designed to promote comfort to young children aged two and upwards, Sinéad describesit as her 'Dragon's Den' innovation.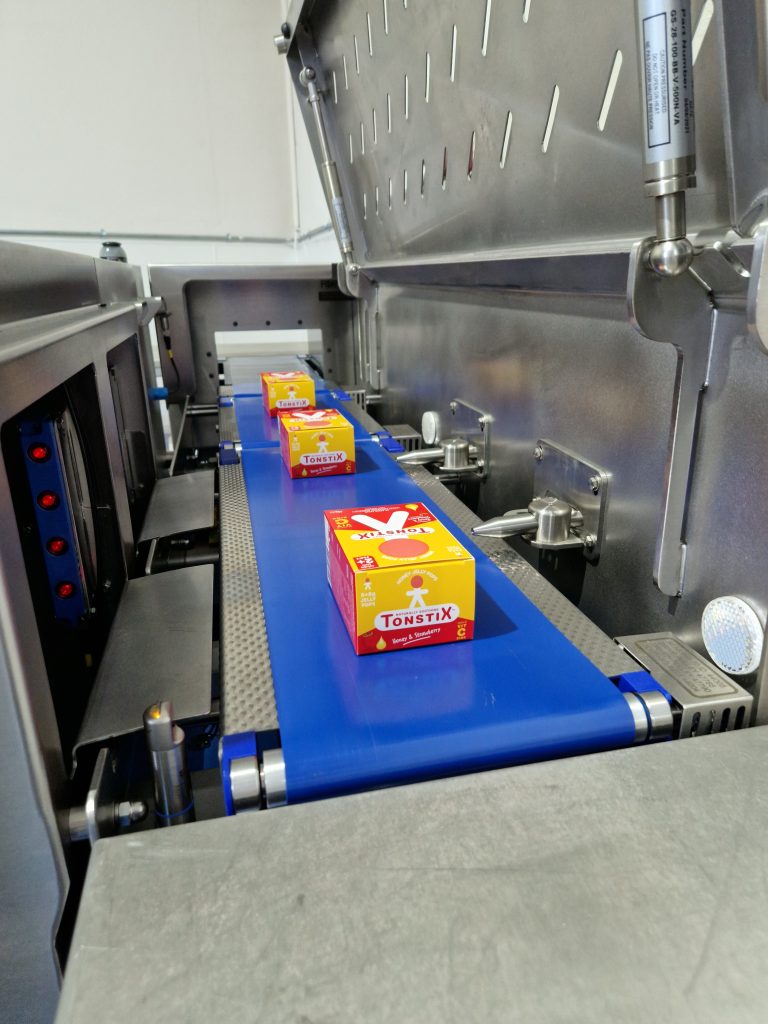 Having worked as a community pharmaceutical technician for several decades and with four children of her own (three under the age of five at the same time) Sinéad was all too familiar with the distress that respiratory coughs, viruses and sore throats can cause young children. As well as testing the patience of worried caregivers!
With nothing on the market other than glycerine syrups, which aren't in contact with the throat for long enough to trigger the production of saliva to lubricate and comfort irritable throats, Sinéad spotted an untapped gap in the market.
Emulating the benefits of a hard-throat lozenge, Sinéad embarked on a five year journey to develop and present a marketable honey throat soothing product that was appealing to young children. Safety was paramount during all phases of development. The time-honoured soothing properties of honey, found in each pop's jelly, slowly dissolve creating a coating that temporarily supresses distress, comforting irritable throats. The final Tonstix product, made only using natural ingredients, also features Zinc and Vitamin C to support children's immune function.
Simultaneously, the company set about creating a medical grade 'stick-person' shaped stick. Made of moulded plastic, recyclable once the child has finished with it, this was another Eureka moment for Sinéad. Resulting in a Medrol-style delivery device that's now certified in Ireland, the UK, EU and the USA. Supplied with face stickers, they create a playful element in keeping with the Soothing Solutions ethos, explains Sinéad.
The Raptor remedy
Fast track to 2022. Partnering with co-founder and COO Denise Lauaki in late 2019, the duo rapidly escalated the manufacturing strategy to bring the product to pharmacy shelves nationwide.
With the venture backing of Enterprise Ireland, The Redesdale Food and Beverage Fund along with other private investors, Bord Bia for consumer and market guidance and Teagasc offering technical product development and manufacturing advice, Soothing Solutions' first hygienically flow wrapped packages of Tonstix rolled off the production line in Co.Louth in March 2022. Every single product pack is inspected for contaminants and checkweighed by the company's new Fortress Raptor Combi system, ensuring full HACCP and retailer COP compliance.
Already winner of Ireland's Best Emerging Business 2020 and Bronze Best Product at the National Startup Awards, and now listed in all of the major pharmacy healthcare and wellbeing chains in Ireland, suppliers have been queuing up to stock the unique product. With two billion children under the age of 14 in the world, the market potential is vast notes Sinéad. The team already has ambitious plans to collaborate with the multinational pharma companies, confident that their concept and certified dosage delivery stick system will have widespread appeal.
Mindful of these big plans, the co-founders intentionally selected an inspection system that would complement their production growth trajectory.
The Fortress Raptor Combination Metal Detector and Checkweigher supplied by domestic distributor Advanced Packaging Machinery fulfilled this brief the minute it was unpacked. "In all my wildest dreams I never envisaged getting excited about a metal detector," states Sinéad. Considering the end user at every stage – the child – the inspection machine needed to provide the assurance of zero contaminations that could cause harm to a child. In Sinéad's words: "No safety short cuts were taken."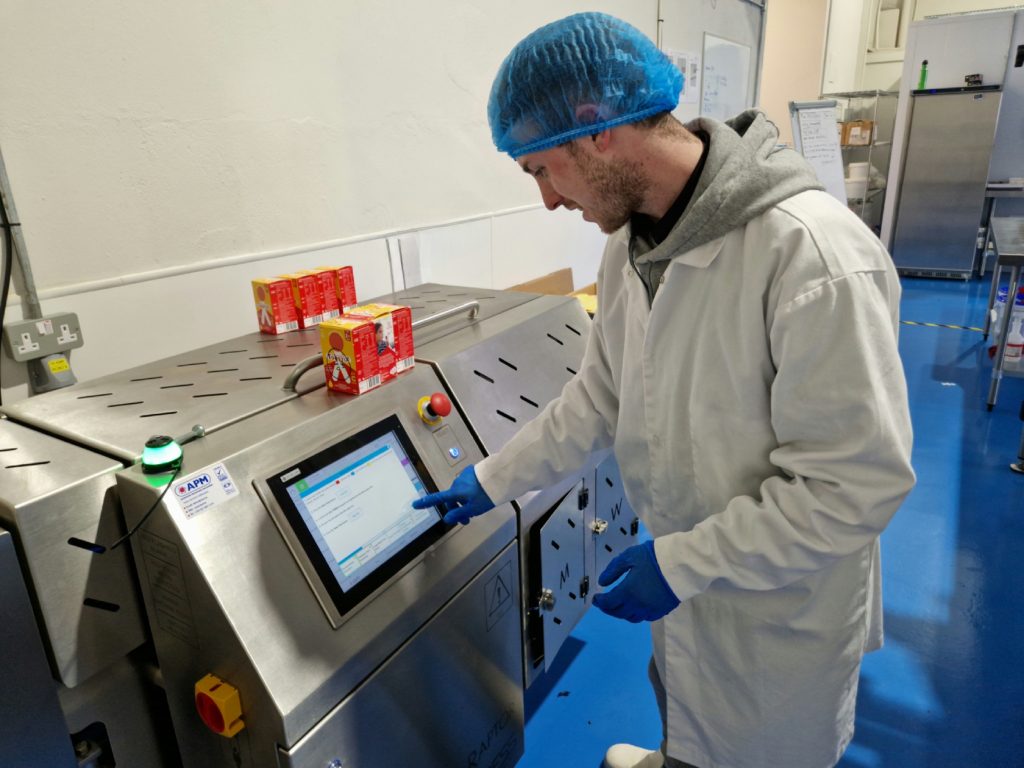 Hand on heart, Sinéad affirms that Kevin Gaines has been their favourite supplier throughout the entire manufacturing set up process. "Never once did we feel we were being oversold. The Raptor system went in seamlessly. It's very user friendly. Frankly, it is the smartest piece of kit on our line. Nothing feels bolted together. The screen collates all the production data we need. It ensures full weighing accuracy, extremely sensitive metal contaminant detection levels, full traceability and exceeds all of our COP compliance requirements."
As a start-up, Sinéad readily admits to having no previous knowledge or expectations of a contaminant inspection system. The screen size and being able to pull the most important parameters to the foreground is brilliant, states Sinéad. "How the Raptor Combi is programmed to factor in the weight of packaging and the stick to ensure that retailers are getting precisely 8 grams of honey jelly pop is so critical for brand assurance. Same for the sensitivity of the metal detector and its ability to identify the tiniest fragments of metal. It gives us the ultimate peace of mind."
Fully integrated with the company's flow wrap machine, an operative manually loads five Tonstix per pack and slides the packs straight into the Raptor for inspection. At the other end, each box is packed onto pallets. The production rectangle flows seamlessly. COO Denise verifies: "When we give a supplier a brief the hope is that they get it straight off. This machine was engineered to our exact specifications and went in without a hitch."
As Soothing Solutions scales up and enters new territories, the Raptor Combi automatically fulfils all the regulatory and bureaucracy requirements, adds Sinéad. The only factor that may need to be considered is the aperture size of the machine. "Larger boxes may require a larger machine. Yet I have complete confidence that with Fortress and Kevin Gaines in our brand protection corner, everything is feasible. I will have no hesitation ordering more Raptor systems when the time comes."
A high performance system and a competitive price point, the Raptor Combi is capable of inspecting up to 150ppm, in pack formats of up to 8kg and measuring 300mm by 400mm. Digital signal processing, built-in data capture, remote access and single pass product learning is integrated into the inline system. Every machine is supplied with Fortress Technology's highly valued Sustainable Lifespan and COP Compliance guarantee.