Highly recommended restaurant offers a medley of dining offerings and stay home options, primed to showcase the season's best
Add a touch of festivity to your celebrations and make hosting a breeze with gourmet take-home treats, available for self-collection or doorstep delivery
YOUNGS Bar & Restaurant shares the joy of Christmas with a slew of festive goodies and merry feasts, primed to bring a touch of conviviality to the year-end celebrations. It's the time of gifting, receiving, and most important of all, feasting. Celebrate the festivities and ring in 2022 with the season's best at the restaurant – from the usual turkey offerings and log cakes to steak and seafood and everything else in between. A spectacular spread of holiday classics are featured in their specially curated Christmas menu that will whisk you away to the colourful cities of Europe.
The Vegan Christmas Salad pulls all the stops with a cornucopia of winter vegetables such as beetroot, daikon, Japanese cucumber, and pomegranate. A red, green, and white themed Charcuterie board features a selection of gourmet ham, Parma ham, air dried beef, mesclun salad, silver onion, gherkin, grapes, strawberries, dried apricots, dried cranberries, cheese, and crackers.
Hearty appetites are sated with exquisite meats such as the Australia MBS 4/5 Beef Tomahawk Prime Rib with red wine jus, Herb-crusted Traditional Sirloin Roast that bears robust flavours, Turkey Schnitzel for a take on a Christmas classic, and Pork Wellington, stuffed with Parma ham, mushroom puree, and baby spinach.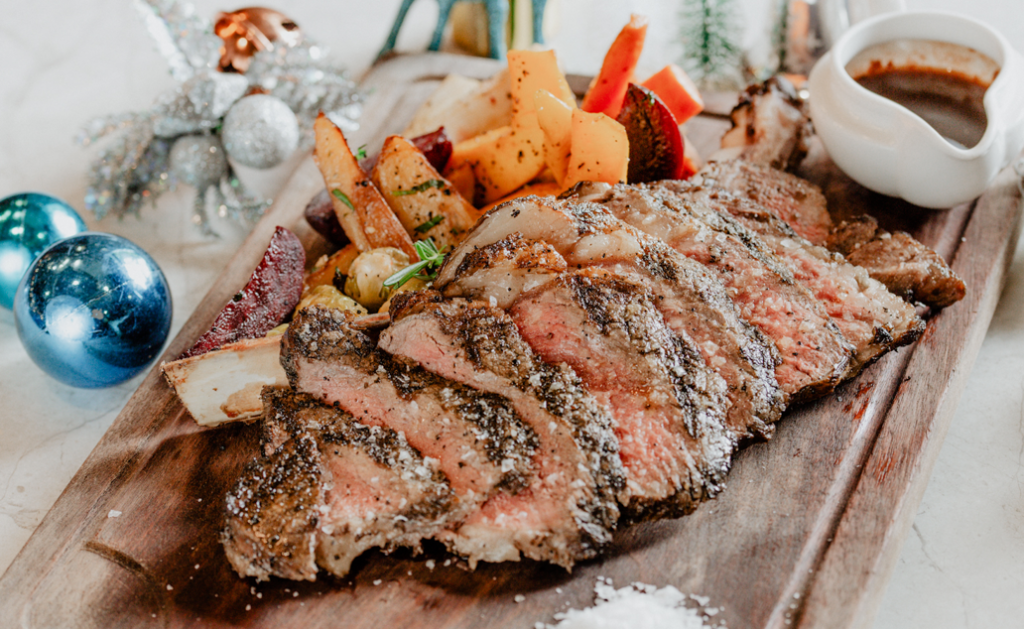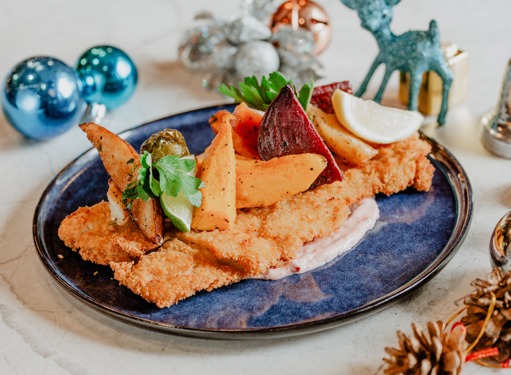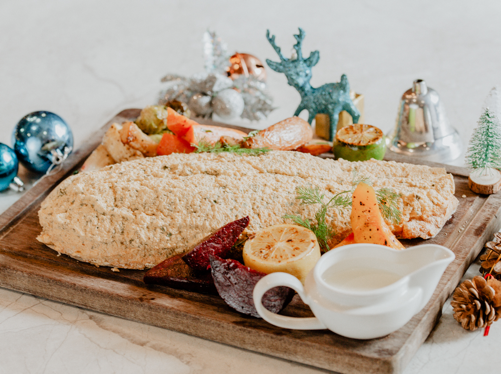 For seafood lovers, the Sea Salt-Crusted Baked Barramundi in a light, creamy mousseline sauce comes fresh from a local farm, while the Seafood Casserole boasts the treasures of the sea such as shrimp, salmon, mussel, scallop and crab meat baked to perfection. A selection of seasonal pasta and pizza features classic holiday favourites such as ham, turkey, pomegranate and pumpkin, perfect options for families with younger children.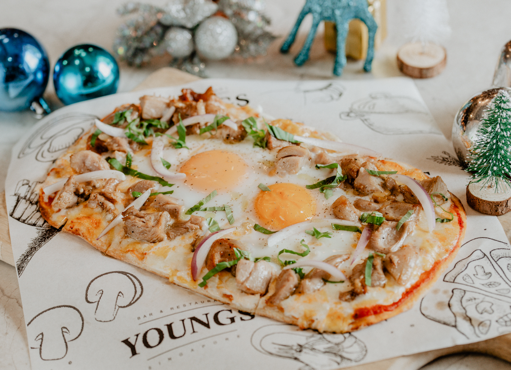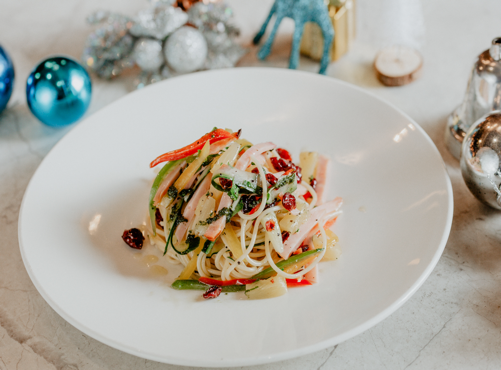 Round up the meal with sweet, decadent treats – Christmas Fruit Cake is the perennial classic favourite, and YOUNGS' version is home-made and served with Crème Anglaise. The Poached Red Wine Pear, served with vanilla ice cream, is tender and bursting with flavour; while the Baileys Chocolate Soufflé is sure to hit the right spot! The Chef's twist on a traditional Christmas favourite takes the form of the elegant Matcha Log Cake, a light, delicate sponge cake infused with an earthy, yet sweet green tea flavour, served with fresh passionfruit.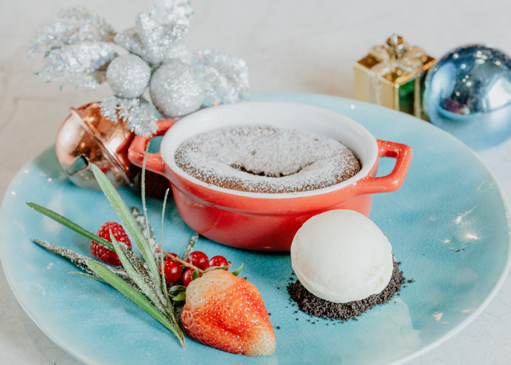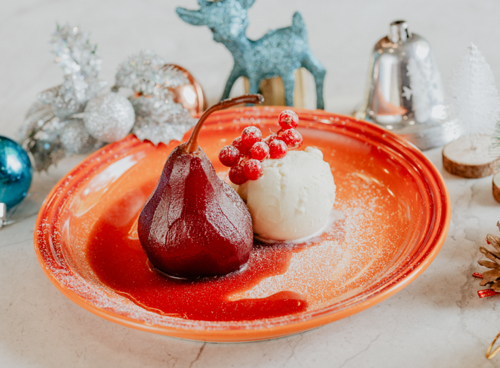 Take things up a notch with a festive cocktail or two. Take a shot of jolly with the Bad Santa (Grenadine, Peppermint Liqueur and Bailey's), celebrate a tropical Christmas with Frosty The Snowman (Vodka, Blue Curacao, Pineapple Juice and Cream), and share the festive cheer with a jug of Sangria de Noel (Comtesse Merlot, Cranberry Juice, Pomegranate Juice and Grand Marnier). On the menu are also familiar classics such as a Mint Julep, Margarita, Martini, or Long Island Iced Tea. For a classic pairing, choose from a fine selection of wines.
The International Bar boasts a vast range of single malt and blended whisky, along with top of the range gin, vodka, rum, bourbon whiskey, tequila and cognac, so there is one to suit even the most discerning drinker.
Christmas At Home
Add a touch of festivity to your celebrations and make hosting a breeze with gourmet take-home treats[1], available for self-collection or doorstep delivery[2]. For home parties, the holiday offerings from YOUNGS Kitchen & Bar features familiar Yuletide classics such as Roasted Stuffed Turkey (4.5kg to 5kg), Tourte de Salmon (1kg) and Honey-Baked Gourmet Ham (boneless) (1kg). Savour tantalizing treats like the Roasted Moroccan Lamb Leg (boneless, 2kg), or share the Wagyu Beef MBS 4/5 Australia Tomahawk Prime Rib (1.2kg), featuring an Australian bone-in prime-cut rib, grilled & roasted to perfection. The menu also includes the Roasted Sirloin Beef Australia (1kg), Roasted Pork Knuckle (1kg), Sausage Platter, Baked Turkey Quiche and Sea Salt-Crusted Barramundi. End the celebrations on a sweet note with a Christmas Hazelnut Log Cake or home-made Fruit Cake with Crème Anglais. From now till 30 Nov, take away orders are at 15% off the total bill.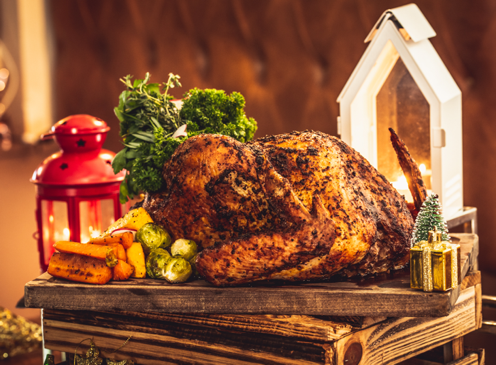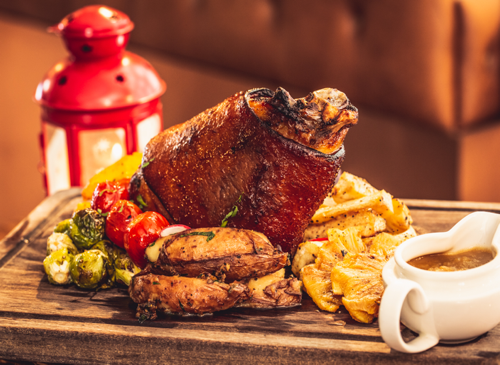 Make your year-end celebrations extra special at YOUNGS Bar & Restaurant. Since its opening in 2016, the highly recommended[1] restaurant has been a go-to hangout spot for families and friends. The 241-seater restaurant is housed in a quaint colonial-era 'black-and-white' bungalow, nestled in a verdant space, away from the hustle and bustle of the city. With its alfresco seating space as an option to dine in the outdoors, the restaurant brings holiday vibes to the table for a truly memorable Christmas in the Tropics.
---