Nowadays, tons of companies are up and ready to provide free Web Hosting to their customers.
But are all of them giving their best?
We guess there must be differences like lack of features and customer support for the free hosting providers compared to the premium plans.
But, we are here with all the related information about Free Web Hosting and top-tier Free Web Hosting Providers, who offer fair and excellent web hosting services.
What is free web hosting?
The method of getting your website live and running on the web is called Web Hosting. When a web hosting firm provides space on a web server for a website's files to be stored, the website is said to be hosted on the web.
The type of hosting determines how much space is allocated to a website on a server.
Why Should You Choose Free Website hosting?
If you do not have enough resources or are on the lookout to start your new small business without risking your hard-earned money, you can go on to host your website for free.
There are many ways to host your website for free, but which ones are the best?
Continue with the article to find out more.
Pros and Cons of Free Web Hosting
Everything around us has its pros and cons when it's adequate or in excess.
Free Website Hosting has its pros and cons, as follows-
Pros–
Access to Customer Support
A free service
Cons–
Ads pop up everywhere
Limited Bandwidth
Limited Features
5 Best Free Web Hosting providers
Time to talk about the Best and Free Web Hosting providers you can opt to host your website-
GoogieHost
Googiehost provides the best free hosting services to administer your free site hosting, including the easy-to-use control panel.
You will have features like free webmail access, SSD-accelerated storage, a fast MySQL database, and much more with GoogieHosts's free web hosting services. It also offers free wordpress hosting services.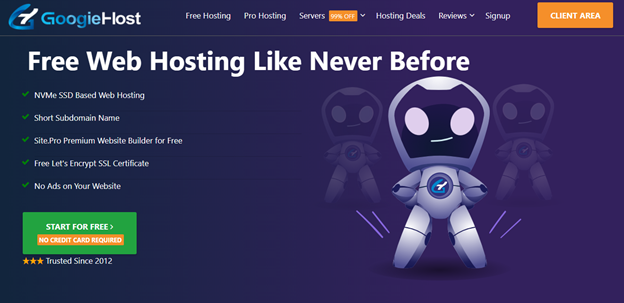 Features
GoogieHost, unlike other hosting providers, provides the most elaborated and technical features, matching their premium plans-
Hotlink Protection
Free Website Builder
PHP all versions
Online File Manager
Free CMS Installers
And more.
FreeHosting
FreeHosting provides a wide range of features and tools for hosting your website for free!
The free hosting option is ideal for small websites such as a WordPress blog, an Internet forum, or a website created with their Site Builder.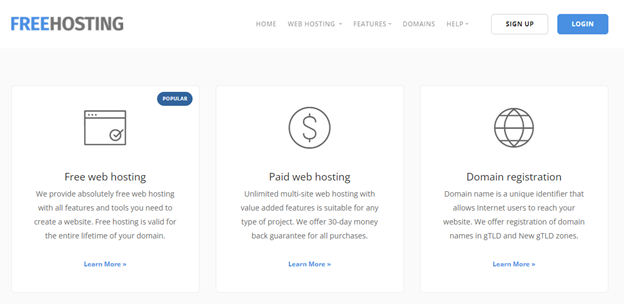 Your website's availability will not be limited; it will be available 24 hours a day by FreeHosting.
Features
Here are the features FreeHosting offers in their plans:
100% free hosting for a lifetime
Hosting for your own domain name
Unmetered bandwidth
Linux / Apache / PHP / MySQL
One-time billed addons
Wix
Wix's website is hosted on a global content delivery network (CDN), a network of connected, secure servers located worldwide and in a beautiful way.
Your visitors are automatically sent to the nearest server, resulting in a speedier loading time for everyone, everywhere.

You can choose a free template for your website from Wix.
Features
Wix has some unique features in their ways to host your website-
Custom Domain
Professional Email Address
Built-in SEO Tools
Automatic Setup
99.9% Uptime
AwardSpace
Host your website for free with AwardSpace's free web hosting.
You can set up your free web hosting account in just a few clicks and have your website up and running in minutes.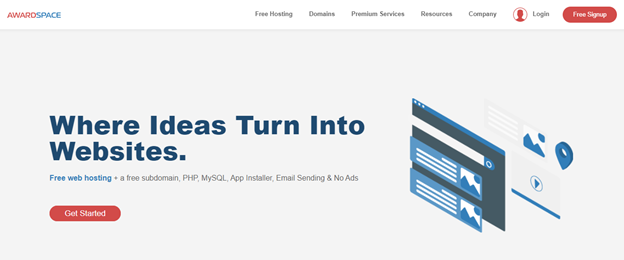 They turn ideas into websites. All you need is to approach them with one, and their team will get on it with full-time support to get it ready in no time!
Features
They do not stay behind in giving you loaded features-
99.9% Network Uptime
Web-based File Manager
Totally Ad-free
CMS Installer
24/7 Customer Support
Weebly
Weebly's free website hosting service provides excellent site performance and stability.
Thanks to the data center redundancy cloud-based hosting infrastructure, visitors to your Weebly site will enjoy a seamless online experience thanks to the data center redundancy cloud-based hosting infrastructure.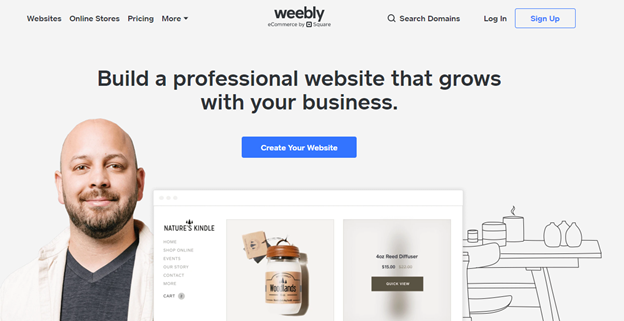 Like Wix, Weebly is also excellent for hosting personal or e-commerce websites.
Features
Strong Designing Tools
Powerful SEO Tools
Drag and Drop Feature
Designing flexibility with themes
Great Site Speed
Certain Free Templates
Conclusion
Through the article, we could understand that certain Free Web Hosting providers offer the best and most extraordinary services despite providing the services for free.
Free Web Hosting can be a lot of help to beginners and those who do not have enough resources. Start from the bottom and reach the heights of success with Free Web Hosting.
We have discussed the ways and how to host a website for free, and now it's upon you to pick the right choice of provider.
For any further questions or queries, feel free to contact us or drop your questions here! We're waiting to answer all your queries!