Londonderry leads the charge with one in three chargers found to be broken
Currently, there are over 37,000 electric vehicle (EV) charging stations nationwide, but findings show that roughly 480,000 public charging stations will be needed to meet the 'Road to 2030' target.
One of the biggest problems plaguing the EV sector is accessibility to charging stations across the country, which puts pressure on councils to place chargers in the right areas and keep them working.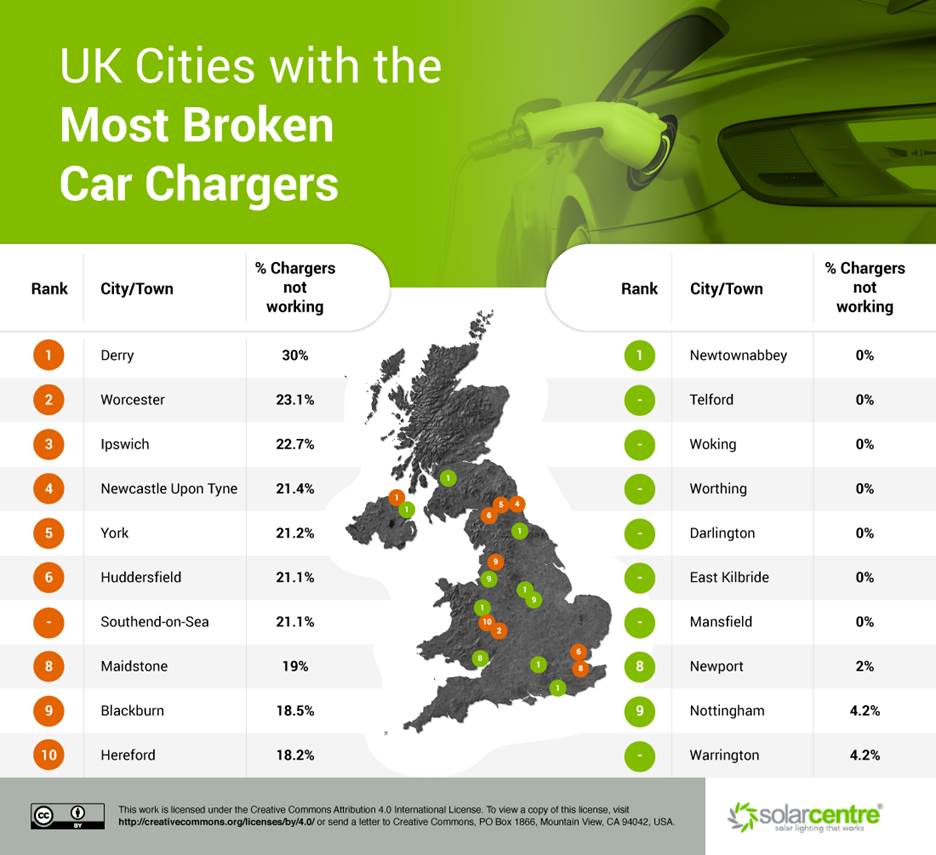 The UK's leading supplier of solar lights, The Solar Centre, analysed the latest data recording the number of EV chargers in towns and cities across the UK to discover which locations have the highest percentage of broken electric vehicle charging points.
Derry, Londonderry has the highest number of broken electric car charging points, with a staggering 30 percent of their existing chargers not working.
A recent report regarding Northern Irish attitudes towards electric vehicles found that 44 percent of respondents felt discouraged about purchasing an electric vehicle due to the need to recharge it.
But, the government recently announced its plans to invest £3.27 million into upgrading the EV network across Northern Ireland by replacing unreliable chargers and upgrading fast chargers to rapid ones.
Following closely is the West Midlands city of Worcester, with almost one in four (23%) of their available charging points broken.
Hoping to improve its infrastructure in 2022, Worcester City Council set proposals to increase the number of EV charging points, with a long-term goal of developing a rollout strategy to place more public chargers around the city.
Ipswich has the third highest number of broken chargers due to 22.7 percent of their EV charging stations currently not working.
Similar to Worcester, the Suffolk town is also looking to increase the number of public charging points, especially around borough car parks, and last year it was announced that fourteen new charging points were being considered for installation
Completing the top five cities with the highest number of broken EV charging points is Newcastle and York, with 21.4 and 21.2 percent, respectively.
Currently, there are estimated 47 EV charging points per 100,000 people in northeast England, whilst Yorkshire has some of the lowest numbers in the UK.
Finishing the top ten is Huddersfield (21.1.%), Southend-on-Sea (21.1.%), Maidstone (19%), Blackburn (18.5%), and Hereford (18.2%).
On the other end of the spectrum, seven cities were shown to have 100 percent functioning EV chargers, including the likes of Mansfield, Nottinghamshire, East Kilbride, South Lanarkshire and Darlington, County Durham.
All three locations have benefitted from additional funding to improve their EV infrastructure.
For instance, Nottinghamshire benefitted from funding provided by the Office of Low Emission Vehicles to expand the public EV network, whereas County Durham council will receive £3.1 million to install a further 150 EV charging stations across the county.
Brian Davenport, Owner and Co-Founder at The Solar Centre commented:
""Electric cars are eco-friendly, convenient, and have lower running costs, but a lack of available chargers and inconsistency in their ability to work could put drivers off."
"With the Road to 2030 only a mere seven years away, it's vital local councils are given additional budgets to ensure their EV charging points are working and placed in convenient areas to encourage more drivers to switch from petrol and diesel cars to electric."
You can view the full study here.