Birmingham is the most money-minded place in Britain, whilst people in Liverpool care least about cash, according to a recent study
It's official: Some regions in Britain care more about money than others.
That's the conclusion of a recent study by Equity Release Supermarket which analysed six metropolitan cities to see how searches for 'money' compared against life's other necessities like 'love', 'health' and 'power'.
The financial planning company used Google Trends topic data to compare common money idioms against their counterparts – determining which Brits prioritised wealth.
Overall, data showed that Brummies cared most about money (81 per cent of aggregated money searches) while Sheffield and Liverpool residents appeared to consider cash less important (each with 71 per cent aggregated searches).
The study did show, however, that every UK region prioritised love over money – rendering it the most important element of life.
Love-related terms were well-searched in all six cities, with Liverpool and Manchester leading the charge (both received 97 per cent of aggregated 'love' searches).
Health is a clear second priority for Brits after love, except in Sheffield.
The study revealed that those from the Steel City prioritise power over anything else – reaching 100 per cent aggregated 'power' searches when compared against other regions.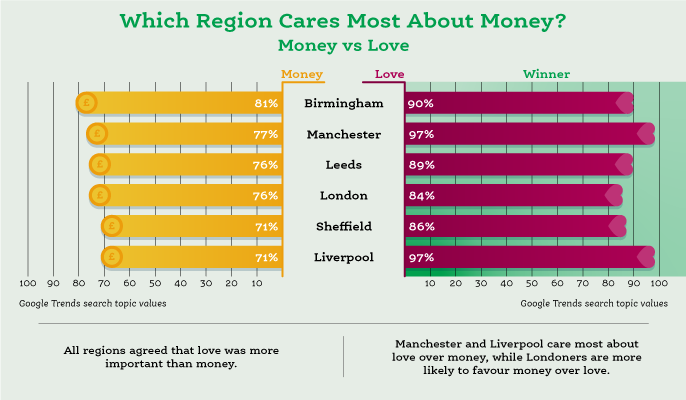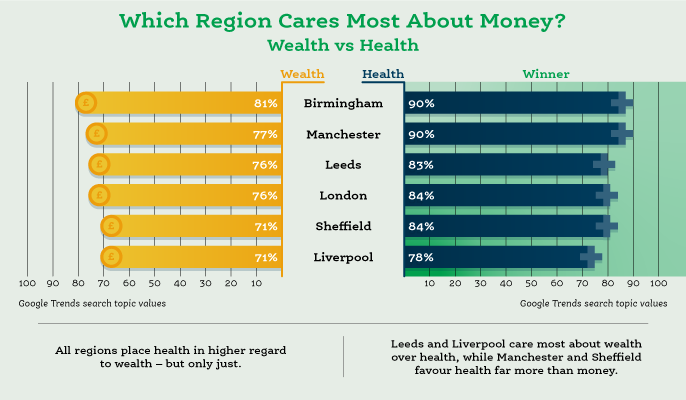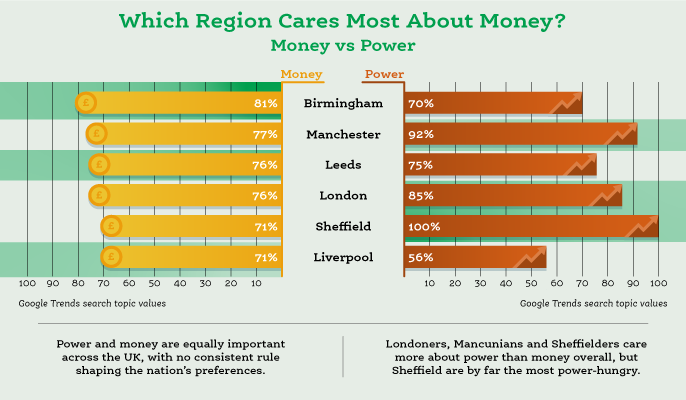 An Equity Release Supermarket spokesperson commented: "Whether resplendent in wealth or watching the pennies, it is fair to say that every Brit has money on their mind. Of course, knowing how to spend – or save – it is entirely in the hands of the earner.
"For some, that could mean saving up towards the first post-Covid holiday (finally!), putting some cash aside for the future or siphoning off your salary each month to pay off that mortgage – however you use it, the idiom is true: money really does make the world go round, as our research has found.
"It is reassuring to know how much Brits really do care about money when searching online, as being financially secure in retirement doesn't simply start from the date you receive your pension – it's a lifetime in the making!"
Read more about the latest money trends in Britain by reading the Equity Release Supermarket news section.