Music is intrinsically tied to fashion. Styles are influenced by (and sometimes named after) performing artists with enough influence to become emblematic of the period. 2022 is already proving to be a year of returning trends; both music and fashion are borrowing sounds and looks from earlier decades that could satisfy anyone's nostalgia.
But what trends should we expect to see this year? How will your playlist align with your wardrobe to create a vibe that's been decades in the making? By exploring key trends in fashion and music between the 1970s and 2000s, we can prove how 2022 is the year of fashion and music nostalgia.
The 1970s — Flared jeans: here we go again
The rise of disco had as much of an effect on fashion as it did music. As one of the biggest genres of the decade, it combined syncopated basslines, traditional orchestration, and electronic instruments to create a sound that consistently delivers great songs — which are celebrated even to this day.
The genre also lends itself to several dance styles which were elevated by the fashion of the period. Large, swinging movements were accentuated by flared clothing, allowing sleeves and trousers to take flight in contrast to a tapered body fit that acted as a pivot for larger-than-life dances.
Perhaps flared jeans are most recognisable when aligned with Swedish pop group, ABBA. Their pop, rock, and disco tracks became dance-club anthems, with flared jeans and silk suits flowing to "Dancing Queen" and "Voulez Vous" all across the world.
In 2022, it appears that both disco, ABBA, and flared jeans are on the rise again. ABBA is set to tour this year, following the release of their long-anticipated Voyage album last year. But has their '70s style influenced fashion fanatics today? Yes, according to UK Google searches. 2021 saw flared jeans at their most popular in years, with searches for the denim style increasing by 85% against their five-year average.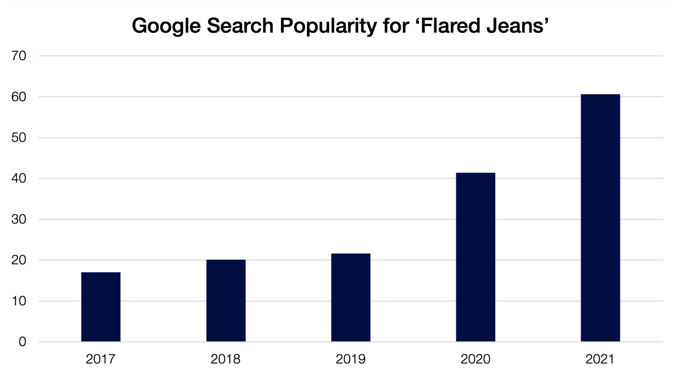 Performers such as Bruno Mars and Dua Lipa are also giving us '70s style ballads, leaving the door open for all to indulge in some disco nostalgia.
The 1980s — Big hair, big shoulder, big songs
The 1980s were monumental for the music scene: Michael Jackson, Prince, Madonna, Springsteen — you name it. The diversity of music and fashion in this decade continues to impact how we dress and enjoy music to this day. Its effect was big, just as everything else from this era.
Bold neon colours on blazers with padded shoulders added fun and pop to the scene. Rock aesthetics also helped launch a taste for individual styles that went against the grain. Big hair helped people to express themselves, and like Cyndi Lauper's "Time After Time", it appears that this fashion is ready to take centre stage in 2022 yet again.
Miley Cyrus takes inspiration from her father, Billy Ray Cyrus, with a mullet hairstyle. According to Cosmetify, the mullet was the most popular hairstyle of 2021 with 15.5 million searches, increasing by 142% on the previous year. If you've got yourself a mullet, there better be '80s music playing at all times.
The 1990s – Baggy and loose
By the time Eminem burst onto the scene in the 90s, it was clear that hip hop was about to become the most popular music genre in the world. Preceded by the aesthetics of rock and roll, hip hop launched the fashion of rappers into the mainstream, popularising baggy denim and loose-fitting garments.
From N.W.A. to Will Smith, oversized denim and dress unified a diverse genre and cemented itself as the staple style for generations of artists. Leading rappers in the 2020s are now considered to form the pinnacle of high fashion, sitting front row at fashion shows around the world.
Hoodies from leading brands such as GAP almost feel synonymous with the '90s fashion experience, and their ability to transcend into modern fits enables them to be considered as timeless as music from the decade. We should expect to see more of these trends and brands in 2022 as hip hop continues its domination of the music industry.
Breakdancing also helped popularise the loose style, allowing for free and full movements as demanded by the dance style. Today, in the age of TikTok dance trends, it's unsurprising that the style is becoming wildly popular again. TikTok has influenced the music industry on many ocassions, boosting the popularity of songs like Doja Cat's Say So. The social platform even powered the public vote at this year's Brit Awards. But if we could vote for fashion styles, the '90s would be in the running for the best act, with 322 million views under #90sFashion.
2022 is already turning out to be a year that takes the best fashion and musical inspiration from the past 50 years. Borrowing styles and tastes from by-gone eras can help express your individuality while making you feel part of a wider community. From flared jeans and disco tracks to hip hop and baggy comfort, what styles and tunes will you enjoy?
Sources
https://www.cosmetify.com/the-hair-report/
https://newsroom.tiktok.com/en-gb/let-the-fans-decide-brits-public-vote-to-be-powered-by-tiktok