Using an old computer might be frustrating at times due to its performance. You can always try and upgrade your computer hardware to give it a new life. HDDs are comparatively slower than the new SSDs available in 2021. If you have a Windows 10 PC, you can easily upgrade your Hard Drive by using Acronis to clone HDD to SSD. Replacing the hard drive is easy on a PC however for laptops, you may need professional assistance.
Understand the Difference Between Cloning & Imaging
Before you go ahead and use Acronis to clone HDD to SSD, let's understand the basic difference between Cloning and Imaging.
Disk Imaging: This is the process to create large and compressed files in ISO file formats. It is mostly used to create backup files on your external hard drive, network location, Cloud Drives, or on a secondary partition. A Disk Image is NOT a bootable file that you can use to replace your Hard Drive.
Disk Cloning: This is the process of creating an exact copy of the hard drive that can just work as a replica of HDD. It copies the entire content of the hard drive along with system files, the bit-by-bit transmission of all the sectors, and creates a system drive that can replace the source drive. You can use a clone drive to boot your computer and replace the existing hard drive. Cloning allows you to back up your data as well as replace the existing hardware.
How to Clone HDD to SSD on Windows 10
The manual process of cloning HDD to SSD in Windows 10 is easy however only professional use this option after creating a backup of everything they need. If you have already taken a backup of your data and there is nothing important to lose, you can try this Windows option. Here is how to clone HDD to SSD Windows 10.
Step 1. Press (Win + I) to get into Windows Settings. You can also click on the Start menu and then click on the Gear icon for Settings.
Step 2. Click on the 'Updates & Security' option at the bottom.
Step 3. Click on the 'Backup' option on the left-hand side panel.
Step 4. Click on the 'Go to Backup and Restore (Windows 7) link on the right-hand side page under the 'Looking for an Older Backup?' section.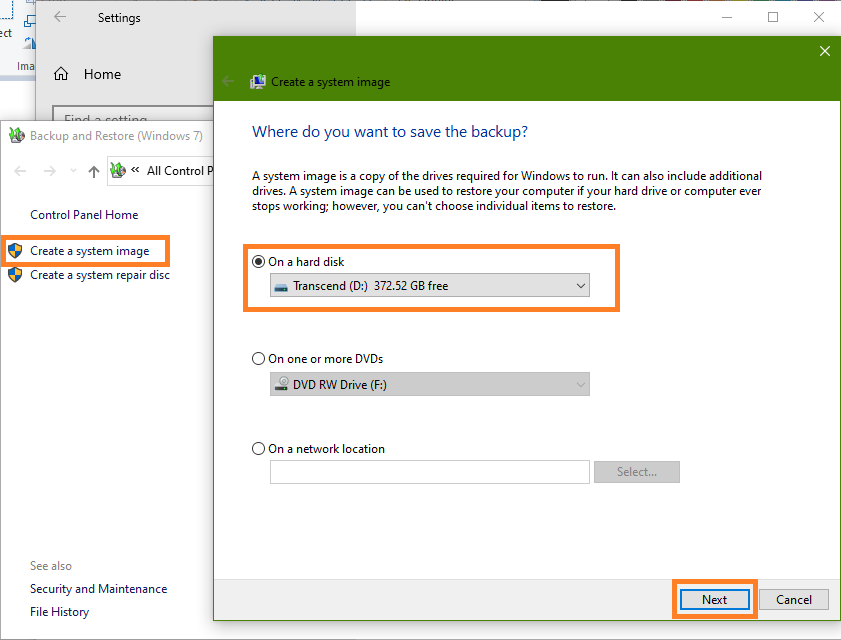 Step 5. Click on the 'Create a System Image' link in the left panel on the new window.
Step 6. A new window will pop up with options like 'On a Hard Disk', 'On One or More DVDs', or 'On a Network Location.'
Step 7. Connect your SSD using the Data cable or USB Cable depending on the model, and select the 'On a Hard Disk' option and select the destination location and then click on the 'Next' button.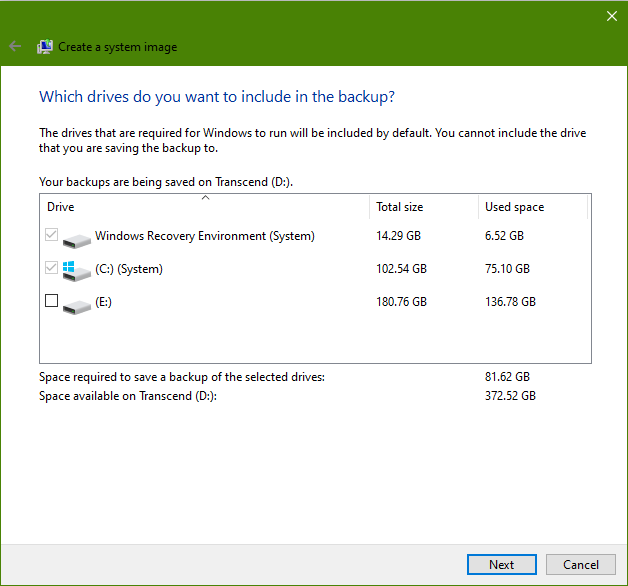 Step 8. On the next wizard, select the source drive from where the OS is installed. Compare the space required versus available and go Next and click on the 'Start Backup' button to begin the process. This process to clone HDD to SSD may take longer depending on the file size of the source drives.
Use Acronis True Image Clone
If you don't wish to leave any stone unturned while cloning your HDD to SSD, you should make use of the Best Data Cloning Software in 2021. Acronis True Image Clone is compared, reviewed, and rated as one of the best data cloning and backup software to replace HDD with SSD. Here is how to clone HDD to SSD on Windows 10 using the Acronis clone drive feature. If you want to know more about its pricing, features, its interface or detailed review read on top10pcsoftware
You need to keep a few things in mind.
· Target Disk and the Source Disk must have an equally logical sector size.
· You can't clone a Dynamic Disk even while using Acronis to clone HDD to SSD.
· Active Clone your Windows system directory without stopping or restarting the OS.
· Both the hard drives must work in the same controller mode (IDE or AHCI)
· BitLocker encrypted disk must be unlocked before cloning.
Step 1. Download and install Acronis True Image Clone from the official website.
Step 2. Register and activate the software with full features.
Step 3. Initiate the software and click on the Tools menu in the sidebar.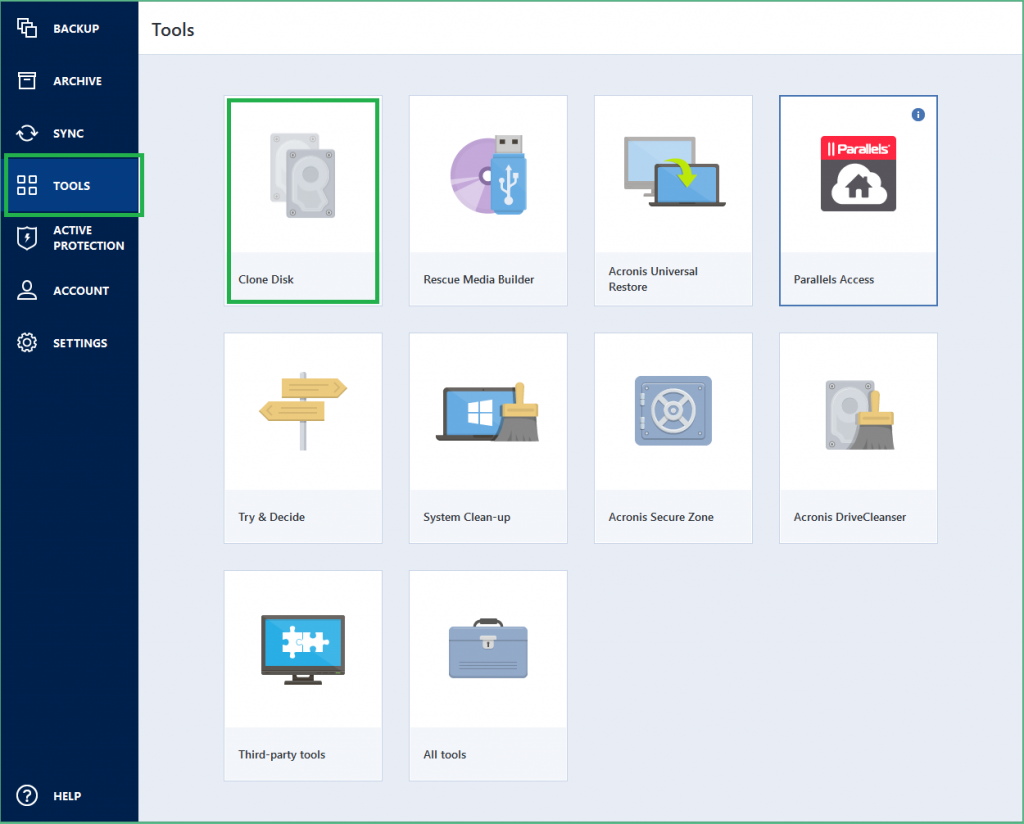 Step 4. Click on Clone Disk to initiate the process.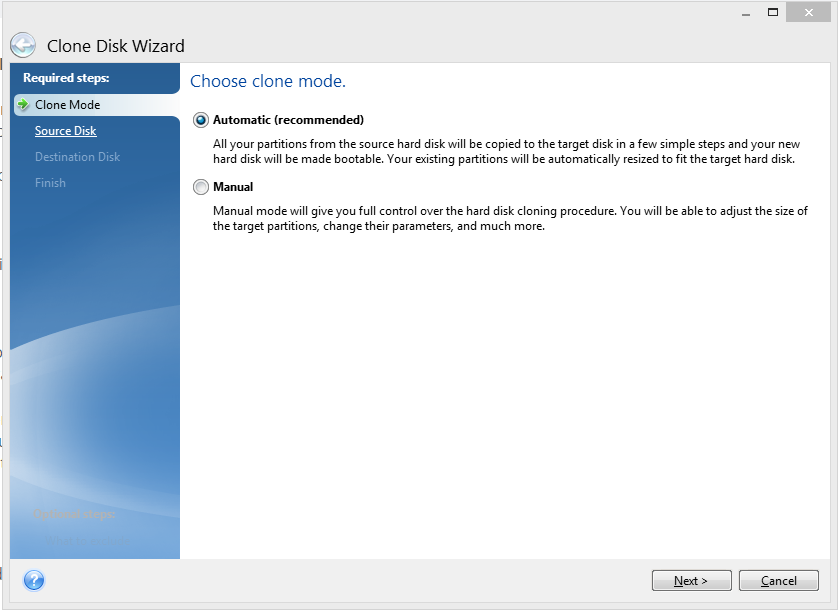 Step 5. Choose your Clone mode between Automatic and Manual. Automatic Cloning will proportionally resize to autofit your new hard drive while the Manual mode gives you the option to control the hard drive cloning procedure. Automatic mode is recommended here.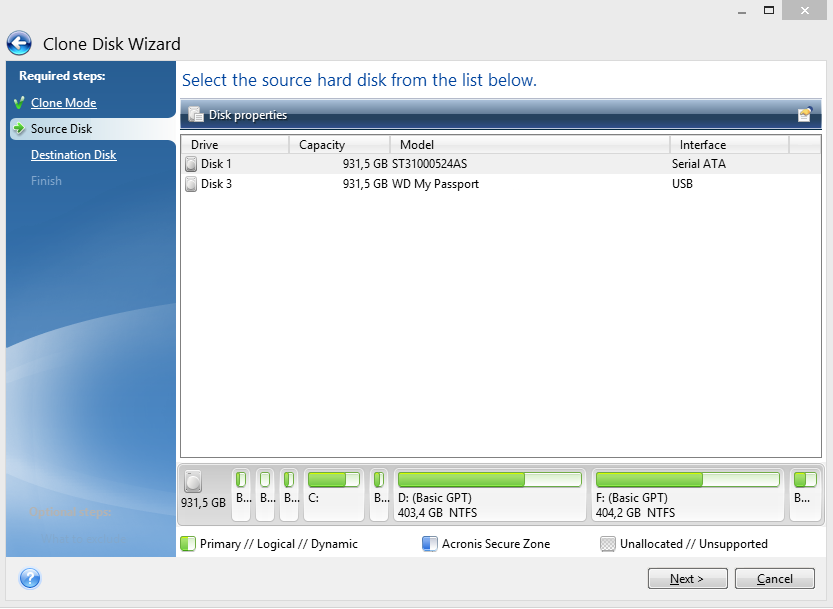 Step 6. Select the source disk that you wish to clone. Generally, it's the drive that has your OS installed.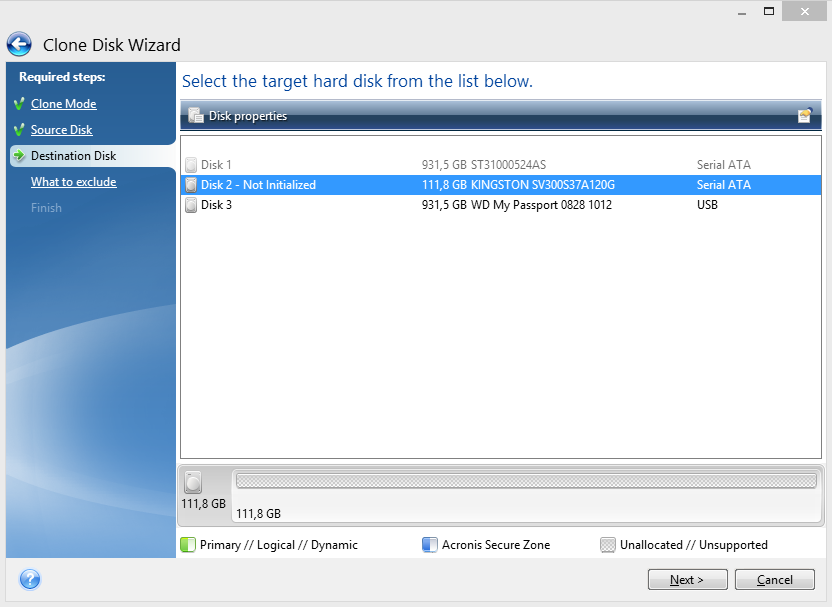 Step 7. On the next window, select the destination disk where you wish to clone. It's the new SSD that you are planning to clone.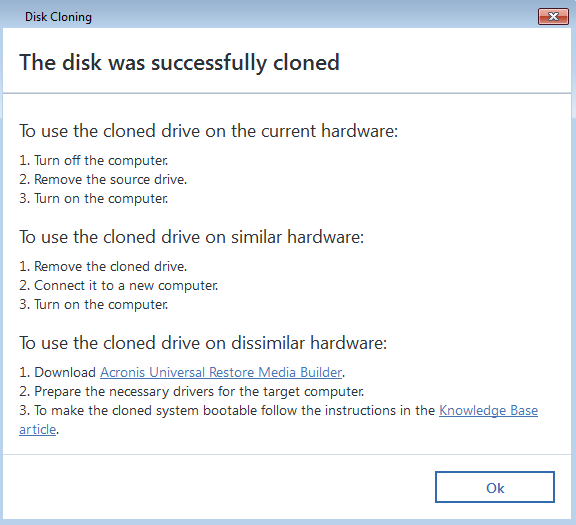 Step 8. Go next and wait for the process to finish itself. Click on Proceed if prompted and wait for the cloning to be finished. You'll see a message stating 'The disk was cloned successfully.'
If you are replacing the cloned SSD with HDD on the same computer using Acronis true image clone to SSD, you are good to go, else you should consider following this.
If it's a different computer, remove the clone drive and connect it to the new computer. Prepare necessary drives for the target computer and follow necessary steps to Create Acronis Bootable Media.
Summing Up
Cloning a hard drive is easy if you just know the basics of it. The cloning process doesn't need much intelligence if you follow these steps on how to clone HDD to SSD on Windows 10. You just need to identify the right hardware, partition, data and make the right selections. Acronis true image clone is a robust cloning process. You can rely on this for data security while using Acronis to clone HDD to SSD. Keep it backed up and upgrade is the key to make it as good as new!